Nottinghamshire PCC Paddy Tipping: Tax rise needed to balance budget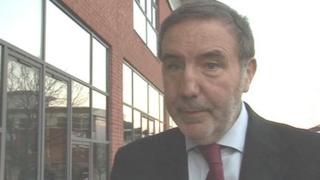 Nottinghamshire's police and crime commissioner wants to increase council tax by almost 2% to raise £12.7m needed to balance the county police budget.
PCC Paddy Tipping is calling for 120 more police officers in the next year, but proposes the closure of Mansfield Woodhouse police station.
The tax hike would mean an increase of "less than a penny a day" for most households in the county, he said.
His proposal will need approval by the police and crime panel on 3 February.
'Bobbies not buildings'
Mr Tipping said a 1.96% increase in the policing portion of the council tax bill for Band D households would mean an annual tax increase of £3.33 under his proposals.
Residents have been consulted on the closure of Mansfield Woodhouse police station, he said, adding that he wants to close all the county's police station counters "apart from the big stations".
"I want Bobbies not buildings," he said.
Police officers in Mansfield Woodhouse will be housed in smaller premises rented from the council saving £40,000 a year, he said.
Counters, including those at Eastwood and the Meadows, have already been closed.
"We're one of the few forces in the country to increase our uniformed presence on the streets," he added.
The 2014-15 budget allows for 2,142 officers by April 2015 - an increase of 120 since 2012-13 - and 375 police community support officers (PCSOs), an increase of 75 from 2012-13.