Former Al-Madinah head urges Newark parents to sign up for free school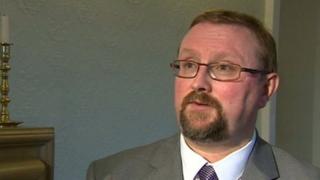 The former head of the Al-Madinah free school in Derby has said he is still confident of opening a free school in Newark despite government concerns.
Newark School of Enterprise has so far failed to secure funding because of lower than expected pupil recruitment.
Andrew Cutts-McKay urged more parents to apply because its September opening was "not a certainty".
The Department for Education (DfE) said the school was still working towards meeting its expectations.
'Need more children'
Mr Cutts-McKay, and the trustees at the Newark School of Enterprise, had wanted the financial agreement signed off by the DfE at a meeting last week.
He said: "Without the final funding agreement signed, sealed and delivered we can't say opening is a cast iron certainty.
"They [DfE] want us to secure 75 children but we've currently got 50, so we do need more children to be able to secure the funding agreement."
Mr Cutts-McKay added that more meetings would be held over the coming weeks with the DfE.
A DfE spokesperson said in a statement: "All free schools must demonstrate strong leadership, effective governance, good pupil recruitment and a convincing education plan before their funding agreement is approved.
"Newark, like all free schools in the pre-opening stage, is working towards meeting these expectations."
Mr Cutts-McKay helped set up the Muslim ethos Al-Madinah free school in Derby which opened in September 2012.
He left the free school the following June citing anonymous threats to his children as the final straw in an ongoing row with governors over the school's funding.
Newark School of Enterprise's trustees' original plans for a free school named the Exemplar Academy were thrown out in March.
The backers say the school, under its new name, will be secular and would help revive the town, educationally and economically.