Beeston tram works: End date given after further delays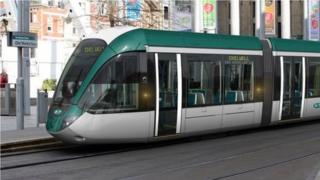 Delayed tram works through a Nottinghamshire town have been given a new end date by a construction firm.
Taylor Woodrow Alstom has said work to extend Nottingham's tram system along a section of Chilwell Road in Beeston is now due to finish in May - seven months behind schedule.
The firm said it "regretted" the latest delay, which it blamed on early problems with redirecting utilities.
Traders say compensation handed out by Nottingham City Council is not enough.
Chilwell Road, which is home to dozens of businesses, has been closed to traffic since work began in March last year.
Owner of Cutting Edge barber shop Richard Williamson said: "There's nothing to guarantee that the trade we have lost will come back once the road reopens."
Traders were told in December that the works - already two months behind - were delayed further because of "technical difficulties".
Project director for Taylor Woodrow Alstom, Michael Anderson, said: "We understand it's very difficult for traders but we were unable to do the work in a different time frame. It's very regrettable that it's taken so long."
All roads in Beeston should be fully reopened by July, the firm said, with trams running to and from Nottingham by the end of 2014.