Lindsey Inger tram death: 'Nothing driver could do'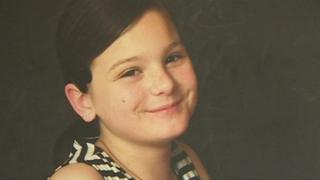 A tram driver said there was a "deadly silence" in the seconds after the accident that killed a 13-year-old girl.
Adrian Vickery was giving evidence at the inquest into Lindsey Inger's death, who died as she crossed the Moor Bridge line in Bestwood in November 2012.
He said there was nothing he could do to avoid hitting her.
After he spoke, a family member stood up and said they did not blame him for her death.
Lindsey and three other girls walked across the tram crossing at 19:00 GMT to get to one of the friend's houses.
According to Lindsey's family it was the first time she had ever used it.
Mr Vickery, described as very experienced, told the hearing that he was driving below the speed limit and with the full beam headlights when he saw three children at the crossing.
As he approached the youngsters, he saw Lindsey standing to the left and thought she had noticed him and would step out of the way.
As he got nearer, he said to himself "move, move" but the tram hit her, the inquest heard.
He applied the emergency brake and the tram came to a halt followed by a "deadly silence", Mr Vickery said.
During the hearing, Lindsey's foster sister stood up to tell Mr Vickery the family did not want him to live with any guilt and said they felt he did all he possibly could to avoid the collision.
Following the death, a police forensic examiner analysed all the data recorded by the tram and watched CCTV.
The court heard that that Lindsey was just 50cm (20in) from safety when she was struck and the horn was sounded five seconds before the collision, when the tram was 97m away and Lindsey was still behind a barrier.
In 2008, Jean Hoggart, 56, and seven-year-old grandson Mikey Dawson died at the same spot.
A footbridge at the site, which the teenager's family campaigned for, opened in October.
The inquest at Nottingham Coroner's Court continues.