Lindsey Inger tram death 'was instant'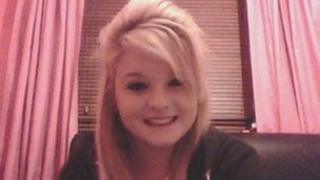 A teenager struck by a tram on a crossing in Nottinghamshire would have been killed instantly, an inquest has heard.
Lindsey Inger, 13, from Bulwell, was hit as she crossed the Moor Bridge line in Bestwood in November 2012.
Pathologist Dr Charles Padfield told the hearing she "suffered a huge trauma in a split second".
A previous report by the Rail Accident Investigation Branch (RAIB) said she "did not react" to a warning horn.
Investigators found the tram had its headlights on full beam and sounded its horn almost continuously from when the driver spotted Lindsey and the friends she was with.
The RAIB said that along with confusion over the horn, a bright light installed after a double fatal accident at the crossing in 2008, may have "inhibited" Lindsay's vision.
Records show the tram was travelling at 43mph (70 km/h), well under the limit for the area.
In 2008, Jean Hoggart, 56, and seven-year-old grandson Mikey Dawson died at the same spot.
A new footbridge at the site, which the teenager's family campaigned for, opened in October.
The inquest at Nottingham Coroner's Court continues.