Clifton's abandoned British Gas scheme investigated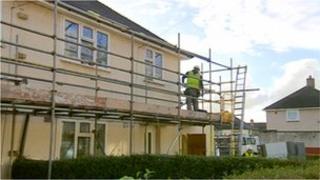 The government has said it will investigate why British Gas abandoned a scheme offering free or subsidised insulation to homes in Nottingham.
About 2,000 people living in council-owned and privately-owned properties in Clifton had signed up to the project.
The energy company said changes to the Energy Companies Obligation (ECO) meant they could no longer fund the project.
Energy minister Greg Barker said he would meet Nottingham South MP Lilian Greenwood over the matter.
British Gas said it would work with Nottingham City Homes, which manages council properties, to look at other available programmes.
'Obligation at scale'
Ms Greenwood, who raised the matter in the House of Commons on Thursday, said there had been "anger and deep disappointment" in her constituency when British Gas announced they were pulling out of the scheme.
Mr Barker said: "This primarily is an issue for British Gas, they have the obligation at scale to deliver measures to help the fuel poor.
"We are very clear in ensuring that they will be enforced."
About 1,200 people living in solid wall council-owned properties and 700 people in privately-owned properties signed up for the scheme.
Policy change
The British Gas-funded project is due to end within 90 days and many are still waiting to have the work completed.
Nottingham City Council said anyone who had paid for insulation and did not receive it, would be refunded.
Ms Greenwood said she was pleased Mr Barker will meet her but "disappointed" the government are not taking responsibility in part for the scheme's demise.
She said she will press the contractor to complete as much of the work as possible before it is wound up in April.
It is unclear how many homes there are left to insulate in the timeframe.
The government's ECO scheme was designed to give free home insulation to low income households, by March 2015.
The scheme cost the big six energy companies about £50 a year, per customer, which it added to consumer bills.
However, in December, the policy changed meaning the suppliers would no longer have to pay the levy and in turn the saving would be passed on to customers.
British Gas denied the ECO changes would effect the fuel poor and said by reducing bills it would take about 40,000 households out of fuel poverty.