Two Nottinghamshire care homes warned over cleanliness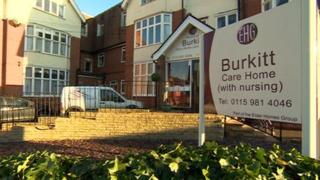 Two Nottinghamshire care homes have had their county council contracts suspended after critical reports about the quality of care.
One of them, the Burkitt Care Home in West Bridgford, was criticised over a range of issues, including hygiene, safety and staff training.
The Care Quality Commission has issued the home with a warning notice.
Elder Homes, which runs both Burkitt home and Eton Park in Cotgrave, said it was "working to meet all standards".
Home 'a dump'
Councillor Muriel Weisz said she was "shocked" by the CQC reports, stating the homes must come up with an action plan "to sort the situation".
"We will work with them week-by-week, to make sure things improve," she said.
The CQC report into the 39-resident Burkitt home, which cares mostly for people with dementia, said one resident repeatedly called for a drink but was ignored by staff.
Another resident was served meat despite having a care plan calling for vegetarian food.
Inspectors have demanded action to be taken on all areas of problems by 20 January.
The report said: "One person's bed had two mattresses which had become partially stuck together with what appeared to be faecal matter and urine."
One resident who was being treated for a pressure sores, was not turned over often enough while another resident at risk of dehydration was not offered drinks on a regular basis.
Another resident described the home as "a dump".
Urgent action
A CQC report on the Eton Park home in July 2013 also raised concerns about nutrition and cleanliness.
Ms Weisz said the county council has set up a task force to provide advice to any care homes that need support to improve standards.
She said most of the 178 care homes in the county "give high quality care - especially for people with dementia".
David Messenger, Elder Homes Group managing director, said: "We are now working through action plans at Burkitt and Eton Park ... and an extensive redevelopment programme is currently under way at both homes,
"We are addressing all concerns raised as a matter of urgency."
Elder Homes Group, based in Essex, runs 15 care homes and independent living centres across England.