Former Al-Madinah head backs Newark free school plans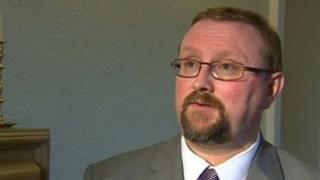 The former head of the Al-Madinah free school in Derby hopes the government will approve plans for a free school in Newark.
Andrew Cutts-McKay was principal at the troubled Muslim ethos school and will be in charge of the Newark School of Enterprise, if the bid is successful.
He said the school is needed to bring back pupils studying outside the town.
But Newark MP Patrick Mercer said the town's existing schools should be improved first.
The government will consider the proposal for the free school later this week after the original plans for the Exemplar Academy were thrown out in March.
Under its new name, its backers say the school will be secular and would help revive the town, educationally and economically.
'Unknown quantity'
But Mr Mercer said that it would take support away from the town's two other schools which are beginning to "stem the flow" of pupils out of Nottinghamshire.
"I don't see parents in Newark clamouring to send children to the free school because, in fairness to the free school, it is an unknown quantity and I think we have stemmed the drift of children away from Newark into Lincolnshire," he said.
He added it was in effect "taking fish from the same pool".
However, Mr Cutts-McKay said: "At this moment in time there are over 800 children who are being educated outside Newark - from my point of view that's totally unacceptable.
"We are trying categorically to stop the drift from Newark and our school will have a capacity of 750 children. So I'm a bit confused how we would be taking children from other schools."
On the subject of his time as head of the Al-Madinah Free School, Mr Cutts-McKay said his leadership was described as "inspirational" by inspectors.
'Prove myself'
He helped set up the Muslim ethos school which opened in September 2012, but left the following June.
He said anonymous threats to his children were the final straw after an ongoing row with governors over the school's funding.
The school was described by Ofsted inspectors as "dysfunctional" and rated inadequate in every category - within a year of it opening.
It also hit the headlines for alleged discrimination against female staff and pupils.
Al-Madinah was not the first free school to be put on special measures, the Discovery Free School in West Sussex was also put in this category in July 2013.
Mr Cutts-McKay conceded there had been problems at the school and he could understand why some people might have concerns.
He said: "It's difficult - I have to get out of bed every single day and prove myself constantly, and that's OK.
"But I think that's what every head teacher should be doing anyway," he added.
If approved, the school is expected to open by September 2014.