New Ollerton hit by 20 small earthquakes in four weeks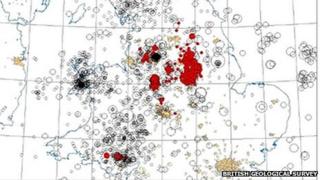 Twenty small earthquakes have been recorded around a Nottinghamshire town in a month, the British Geological Survey (BGS) has confirmed.
The organisation said the activity had been recorded around New Ollerton since 10 December and was likely to have been caused by mining at Thoresby Colliery.
A spokesman said the tremors were weak, with magnitudes of less than 2, but had been felt by residents.
BGS seismologist Glenn Ford said people should not be concerned.
The BGS define earthquakes with a magnitude of 2 as being equivalent to a large quarry or mine blast.
'Centre of the universe'
Mr Ford said it had been "common 20 to 30 years ago" to have so many small earthquakes, but now "they are rare as there's so little mining these days".
He added that people were once "calibrated" to mining tremors and got so used to them that they stopped registering, which he equated to a person becoming accustomed to noise and vibration made by their neighbours.
He added that "seismically, we are not very active in the UK, which is a good thing".
The BGS spokesman said the New Ollerton tremors were probably caused by stress on nearby fault lines triggered by the removal of rock and could continue.
He added that the weakness of the tremors was highlighted by the fact earthquakes in Iran and Vanuatu registered magnitudes of 5.5 and 6.6 respectively during the same period.
Karen Wakefield, Ollerton and Boughton's town clerk, said the revelations have been fascinating.
She said: "One of our councillors has always said Ollerton is the centre of the universe so it looks like he was right."