Nottingham Trinity Square being revamped again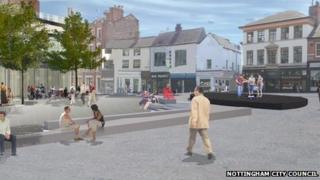 A Nottingham public square which the city council admitted it did not get the design of "right the first time" is being revamped at the cost of £700,000.
The city centre's Trinity Square, which used to be a car park, was redeveloped into a public space in 2009.
The authority said the current space has seating in the centre which was not "suited to performance".
The latest design would have seating on the perimeter, new paving and lighting to create an entertainment area.
'Much better square'
Councillor Nick McDonald, who is responsible for regeneration in Nottingham, said: "We redeveloped it and yes it's not as good as it could be... so it needs further work.
"But it won't cost the Nottingham taxpayer any more. It's been funded by the City Deal funding that we negotiated with government last year.
"We will end up with a much better square, a square with music and theatre, outdoor seating and better lighting and trees."
He added that the new square, which would also allow market stalls to be put up, would complement Old Market Square and Sneinton Square with a similar style of granite paving and seating design.
The city council consulted the public on four designs for the new revamp. Architects Gustafson Porter, who also designed Nottingham's Old Market Square, created the winning choice.
Neil Porter, of Gustafson Porter, said: "The relocation of plentiful seating to its perimeter, good lighting and a large flexible surface, will allow it to become an intimate space for socialising and watching a performance."
Work is due to be completed by the summer.