Shortwood Farm opencast mine development on hold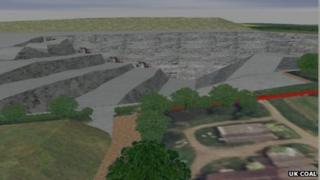 Development of an opencast mine in Nottinghamshire has been put on hold after it was initially given the go-ahead by the county council.
The authority approved the project at Shortwood Farm, between Trowell and Cossall, despite local opposition.
But, now communities secretary Eric Pickles has delayed planning permission after issues were raised about dust, noise and the loss of greenbelt land.
The mine's owners UK Coal said it was disappointed by the decision.
'Fight again'
David Bolton, a UK Coal manager, said: "Our disappointment centres around the fact that we put together a well-designed scheme.
"We considered it met the first test of environmental acceptability on planning grounds."
He added if Mr Pickles calls in the council's decision it could lead to a public enquiry to see if mining can start.
Nottinghamshire County Council's planning committee had narrowly passed the plans, with five councillors voting in favour and four against.
Ken Rigby, councillor for the Kimberley Trowell ward, who had opposed the project because of the impact on the countryside, said: "It's a reprieve, it gives everyone the chance, possibly, to fight again."
UK Coal plans to extract 1.275m tonnes of coal from the 322-acre site over the course of five and a half years.
The company said the area would be returned to farmland after extraction.