'Genuine' 999 calls only at New Year, urge Nottinghamshire Police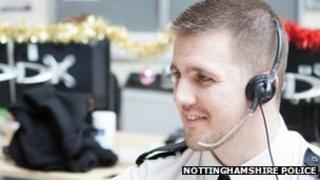 Nottinghamshire Police has urged people to avoid making "unnecessary calls" to them across New Year.
The force is expecting about 2,200 calls between 07:00 GMT on New Year's Eve and 07:00 GMT on New Year's Day.
A spokesman said it took a record of 2,211 calls last year - most between 01:00 GMT and 04:00 GMT on 1 January.
He said that by not getting the less urgent calls, police could "respond to someone whose life is at real risk".
Supt Paul Pollard said while a "great number are genuine emergencies, sadly there are a number that aren't as urgent."
"This can take up valuable time," he said.
"If your life or the lives of others are in danger, then calling 999 is absolutely the right thing to do.
"But if it's for another matter or not an emergency, please stop and think about whether you can get the information you need from another source or call at another time."