Nottingham tram extension: More Beeston delays worry traders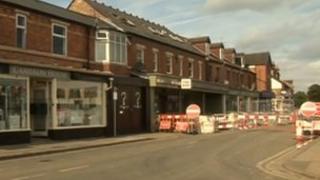 Businesses fear further delays to Nottingham's tram extension could damage trade.
Work in Chilwell Road, Beeston, was meant to finish soon after Christmas but "technical difficulties" have pushed the date back.
Construction firm Taylor Woodrow Alstom blamed the latest delay on problems minimising noise and vibrations along the route.
It has not said when it hopes to complete the section.
In September, it was revealed work on the tram route along Chilwell Road - where the road has been closed to traffic since March - were six to 10 weeks behind schedule.
Traders were told in November there was a further month's delay because of problems with "ageing pipes".
'Really frustrating'
Julie Cameron, of gift shop Cameron House, said: "It's just really frustrating.
"We have lost the footfall, we have lost the passing trade. This should be the best time of year.
"I am not willing and the businesses are not willing to endure this anymore."
The £570m extension of the city's tram network will see two new lines running from the city centre - one to Chilwell via the Queen's Medical Centre and Beeston, the other to Clifton via Wilford.
A spokesman for Taylor Woodrow Alstom said: "We have experienced some technical difficulties with a challenging section of track designed to minimise noise and vibration and this had led to a delay in opening the first section of Chilwell Road.
"Having overcome this technical issue we don't anticipate any further problems and the track laying is now progressing well."
Nottingham City Council said it still plans to see trams running by the end of 2014, despite the delays.