'Turned away' stroke patient John Mallalieu dies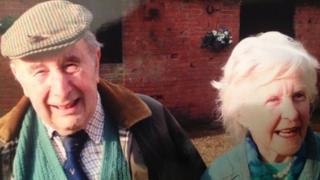 A stroke patient, whose wife said he was turned away from a Nottinghamshire hospital, has now died.
John Mallalieu, 89, was in an ambulance near King's Mill Hospital when it was diverted to a unit 14 miles away in Nottingham, his wife Ruth said.
Mr Mallalieu, from Caunton, was taken to hospital on 6 December. He died in hospital in the early hours of Sunday.
The NHS has apologised and said that an investigation would be carried out into what happened.
Mrs Mallalieu said: "I'm just as angry, even more angry now we've lost him.
"I think what happened contributed to his death. It certainly couldn't have done him any good.
"He had had a stroke and he was very poorly. All I can say is it can't have helped."
'Stressful time'
Mrs Mallalieu said she was told that a consultant at King's Mill Hospital, in Sutton-in-Ashfield, would see her husband as long as he got there by 17:00 GMT.
But the ambulance had to turn around and head to Nottingham City Hospital when it appeared they would miss the deadline by a few minutes, she said.
Mrs Mallalieu said they were three minutes away from the hospital when the decision was made to divert them.
Before Mr Mallalieu's death Dr Mark Jefford, from the Newark and Sherwood Clinical Commissioning Group, said he would co-ordinate an investigation into what happened.
"I'd like to apologise on behalf of the whole NHS and local health community for the experience that Mr and Mrs Mallalieu have received.
"No matter what the outcome of the investigation, clearly it has been a stressful journey and stressful time for the family," he said.
Sherwood Forest Hospitals NHS Foundation Trust, which runs King's Mill, said its stroke service was run from 08:00 on Monday to 18:00 on a Friday.
It said it took about one hour to treat a patient so the agreed cut off time for receiving new patients was 17:00 GMT.
Paul O'Connor, chief executive of the trust, said: "The trust would like to formally extend our condolences to the family of Mr Mallalieu."
He said no further comment could be made until Dr Jefford's investigation was completed.
Dr Jefford has said he would be drawing together conclusions from investigations by the trust, East Midlands Ambulance Service (EMAS) and the Nottingham University Hospitals NHS Trust.