Vanessa Gent guilty of Southwell Care Home allegations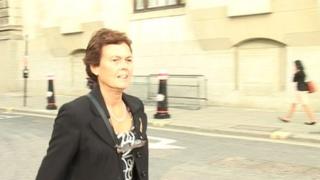 A care home manager has been found guilty of banning a man from visiting his dying mother-in-law.
Vanessa Gent faced nine allegations relating to a woman with severe dementia who lived at Southwell Court Care Home, Nottinghamshire.
She was found guilty of four counts before a Nursing and Midwifery Council panel.
A charge of writing a note saying "stop being so dramatic, everybody's mother dies" was dropped by the tribunal.
The panel has now adjourned and will not sit again until March when it will consider whether Ms Gent is guilty of misconduct. It may then impose a sanction.
'Catalogue of complaints'
The tribunal heard that tensions began between Ms Gent and the family of the resident who had severe dementia.
She was accused of banning the son-in-law, known as Relative C, but she claimed it was the home owner, Anita Higgins.
Alan Harris, chairman of the panel, said there was a "long-running dispute" between the man and Ms Gent and the allegation was proved "on the balance of probabilities".
"She gave evidence that she was overwhelmed by Relative C's catalogue of complaints," he said.
A charge that she stopped the patient eating outside meal times was disproved as were three others including an accusation that she said "let's get rid of her", referring to a relative.
But she did instruct a care assistant not to talk to two relatives when they came to collect the woman's belongings after she died, the panel found.
And she failed to respond to emails of complaint and concern from the family.
The panel found there was insufficient evidence to prove she wrote a note about being dramatic following the resident's death.