Linby homes plans would 'destroy' village, parish council fears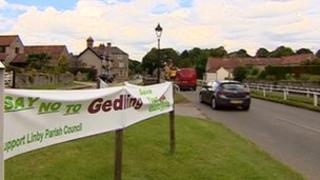 A plan for 300 houses has added to fears a Nottinghamshire village of 83 homes could be "destroyed".
Gedling Borough Council has earmarked land around Linby, named this year's "best kept village", for 1,300 homes over the next 15 years.
The Co-operative Estates, behind the plan, said it was responding to local need.
The council said it needed to allow 7,250 homes before 2028 and some of those must go in the countryside.
Linby won the Campaign to Protect Rural England's Best Kept Village award for Nottinghamshire this year.
'Don't destroy us'
Parish council chairman Bob Brothwell said: "Progress is good but at the same time you've got to remember this village is described in several books as the jewel of the area and that means it needs protecting.
"Not protecting for me, not protecting for the people in the village, but protecting for everybody.
"We know that we need new houses in the area, but don't destroy us."
The Co-operative Estates' plan is for an area north of Papplewick Lane.
The council has earmarked a site for a further 1,000 homes at Top Wighay Farm, just outside the village.
The Papplewick Lane figures were halved after recent talks with the government's planning inspector, the council said.
Council leader John Clarke said: "It's becoming increasingly difficult to find suitable sites in our urban area to meet all our housing needs, but I'm really pleased that because of our great efforts to progress Gedling Colliery and Teal Close, we're now in a position to reduce housing numbers in some of our rural areas."
The council will submit its new proposals to the planning inspector next week.
A spokesperson for the Co-operative Estates said: "Our proposals are in response to the need for new homes identified by Gedling Borough Council, and Papplewick Lane has historically been identified by the council for future residential development."