Robin Hood and Maid Marian's baby joy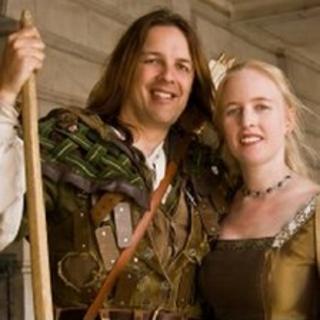 Nottingham's official Robin Hood and Maid Marian have announced the birth of a girl.
University lecturer Sally Chappell, who is the city's Maid Marian, gave birth to the baby weighing 7lb 14oz (3.2kg) at 18:20 GMT on 26 December.
Tim Pollard who has been Robin Hood for over 20 years, had joked about calling the baby Little John, after one of Robin Hood's fellow Merry Men.
The couple, who live in Beeston, gave the girl the name Scarlett Louise.
Mr Pollard said: "We're stupidly proud to announce the drug and intervention-free birth of Scarlett Louise.
"We're all doing well and overwhelmingly happy as she's utterly gorgeous."
Scarlett was born at the Queen's Medical Centre's maternity unit in Nottingham.
Ms Chappell, who is a genetics lecturer at the University of Nottingham, was "just friends" with Mr Pollard before she became Maid Marian seven years ago.
Robin Hood pardoned
Maid Marian is traditionally Robin Hood's love interest in the legends.
Will Scarlet, Friar Tuck, Little John and Alan-a-Dale were popularly known in stories as Robin's merry men, a band of outlaws that roamed Sherwood Forest evading the Sheriff of Nottingham's soldiers.
As Robin and Marian, Mr Pollard and Ms Chappell promote tourism and take part in civic events including the annual Robin Hood Pageant.
They helped ice skaters Jayne Torvill and Christopher Dean welcome the Olympic torch to Nottingham in 2012.
In the same year, they were introduced to the Duke and Duchess of Cambridge in a Nottingham park, as Prince William and Kate accompanied the Queen on her Diamond Jubilee tour.
Robin Hood was officially pardoned by the Sheriff of Nottingham in November, and Mr Pollard was appointed Under-Sheriff, so the two can work together to support redevelopment of the city's castle.