Vanessa Gent denies Southwell Care Home allegations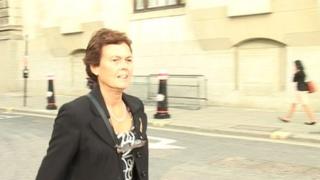 A care home manager banned a man from visiting his fragile mother-in-law and branded him a "control freak", a fitness to practise hearing was told.
Vanessa Gent, who ran Southwell Court Care Home, in Nottinghamshire, said she did not stop the relative from visiting the woman, identified as Elizabeth.
She also denies writing that the family should "stop being so dramatic" over Elizabeth's death.
Mrs Gent denies seven allegations surrounding the resident's care.
The Nursing and Midwifery hearing was told that Mrs Gent became embroiled in disputes with the family when they complained about the care their relative was getting.
'Residents first'
The situation escalated when Elizabeth's daughter, known only as Relative B, called Mrs Gent at home to say there was not enough staff on duty.
The hearing was told that when the manager arrived back at work, she was overheard saying "let's get rid of her", allegedly referring to Relative B who was at the home visiting her mother.
But Mrs Gent denied the allegation.
She said: "My whole philosophy is that it is the residents who come first, you put the residents' needs first, the residents' preferences... even people with dementia I believe have the right to make choices and have the ability to make choices, however limited."
"That has always been my philosophy of care."
'Calmness disrupted'
She said the order to ban the son-in-law, known as Relative C, came from the owner of the care home Anita Higgins, but admitted to referring to the man as a "control freak" in her notes.
"The whole point about the ban was that as a private care home, the owner of that home had the right to ban or allow anybody she wanted," Mrs Gent said.
"She actually had the right to do that for anyone who came in or out of the home.
"It was done because Anita Higgins felt that the whole ethos, the whole calmness was disrupted by this person's continued texting and communications."
Mrs Gent denies seven allegations.
If Mrs Gent, who was sacked in September 2011, is found guilty of misconduct, she could face a permanent ban from the profession.