Emiel Blankert death sparks Mansfield murder inquiry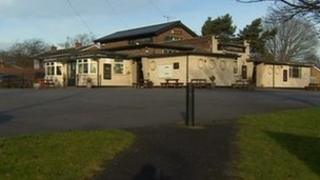 A murder inquiry has started after the death of a man who admitted himself to hospital with severe injuries.
Emiel Blankert, 48, originally from the Netherlands, died on Friday evening, four days after arriving at King's Mill Hospital in Mansfield, Nottinghamshire.
Mr Blankert had lived in Mansfield for 20 years and was said to be well known in the Ladybrook area.
Detectives think he was the victim of an assault in the days before he was admitted to hospital.
Pub visit
Prior to his death, two women, aged 48 and 27, and a 21-year-old man were arrested by police investigating what happened to Mr Blankert.
The three suspects have been bailed pending further inquiries.
Detectives said Mr Blankert was in the Ladybrook Pub in Ladybrook Lane on Monday afternoon, hours before he turned up at King's Mill Hospital.
Det Ch Insp Tony Heydon said: "We are focusing our inquiry on Emiel's movements on Monday afternoon, in the few square miles of his home in Ladybrook.
"We know Emiel went to the Ladybrook Pub in Ladybrook Lane that afternoon. Were you in or around the pub at this time? If you have any information, call us."