Anger over Nottinghamshire Police's 'nightmare' rape poem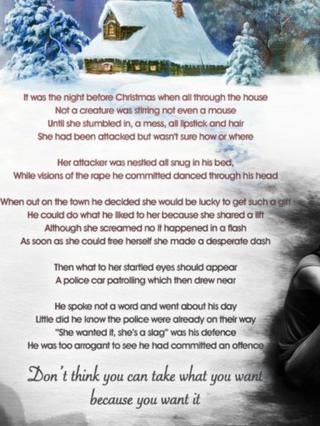 A police-authored poem which tells the story of a woman being raped on a Christmas night out has been branded "appalling" by a women's charity.
Nottinghamshire Police's Nightmare Before Christmas, based on Twas The Night Before Christmas, is intended to raise awareness about sexual assaults.
But Cathy Saunders, of Midlands Women's Aid, said the poem trivialised sexual violence and should be withdrawn.
The force denied the poem was offensive and said it was targeting attackers.
"I'm quite appalled that the authorities thought this would have the desired effect on perpetrators," said Ms Saunders.
"I personally think it should be withdrawn and replaced with something that has a little bit more insight and advice for women on how to keep themselves safe."
But Helen Chamberlain, from Nottinghamshire Police, said she did not believe the poem was misguided at all.
"We have been heavily criticised in the past for focusing on victims and giving out persistent warnings to victims about keeping safe.
"This year we decided to try a different tactic and target the perpetrator.
"I accept it has caused a stir and caused people to talk and that's what it was meant to do," she said.
Another charity said the poem did not go far enough in depicting the effects of sexual assault on the victims.
Leonie Mountain, rape project manager at the Incest and Sexual Abuse Survivors in Newark, said: "I am concerned this poem does not give out the impact rape and sexual violence has on its victims.
"The effects are - and can be - life-changing and very long-lasting. I don't think the poem depicts this."