Sneinton surgery found to have maggots and dirty surfaces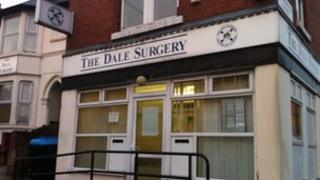 Health inspectors found maggots at a Nottingham GP surgery during visits to practices across the East Midlands.
During the inspections the Care Quality Commission (CQC) found a maggot-infested room and dirty surfaces at the Dale Surgery in Sneinton.
Other surgeries in Leicester and Lincolnshire that raised major concerns had problems with medicine management.
The CQC said the findings would help change the way GPs are inspected in future.
Drawer of flies
During a visit to the Sneinton surgery in October inspectors said they had "serious concerns with cleanliness and infection control" after finding an infestation of pests.
Their report outlined areas where they found dirty surfaces and a drawer of flies in the waiting room, and said the practice did not have a plan in place to manage the risks of infection.
Inspectors said a limited supply of medicines were found on site, with some being stored incorrectly and vaccines that had expired in 2011.
They recognised that patients were happy with the standard of care and said they were satisfied pest control had been called before the end of their visit.
At Long Street Surgery in Wigston, Leicester, there were problems with staff training, including on protecting vulnerable patients from abuse.
Personal information of patients was also not being stored correctly at the practice.
During checks at the Wolds Practice in Tetford, Lincolnshire, inspectors found errors in the management of medicines.
In a statement, the Dale Surgery said they welcomed the CQC's report which acknowledged the quality of care that patients receive.
It added: "We took action to deal with a small number of insect larvae in the hallway by the back door of our premise. We also contacted a pest control company to confirm that there was no evidence of wider infestation, which they did.
"We are responding to the actions we have been asked to take."
The unannounced visits were carried out by the CQC at 900 surgeries across the country as part of a new way of inspecting GP practices from April next year.
Chief inspector of general practice Prof Steve Field said: "We need to make sure that everyone, from the most well-off to the most disadvantaged, can get access to really good primary medical care."
Health secretary Jeremy Hunt, Secretary of State for Health, added: "Patients have a right to expect the best care from their GP practice. That's why we have introduced this new, tougher system of inspection which will root out poor standards and celebrate the best."