Experts to tackle poor performance at Nottingham schools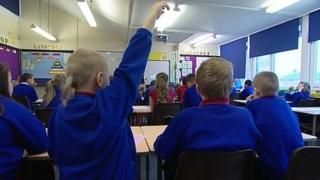 An "experts" group is being set up to improve performance in Nottingham schools, which have been judged as among the worst in the country.
Ofsted inspected eight schools in the city in November, but the results are not yet known.
The body has published a regional report highlighting Nottingham's "poor performance" compared to other cities.
Council leader Jon Collins said: "We cannot sit idly by and watch schools fail to improve."
Children 'let down'
Ofsted's regional director for the East Midlands, Louise Soden, said: "The vast majority of children actually want to do well, they try hard, sometimes coming from really challenging, difficult backgrounds.
"To see even a single child let down is awful."
Her report notes that Nottingham City Council's poor performance as an education authority is not replicated in other cities in the East Midlands, which face "similar contexts and challenges".
The report adds: "Improving performance in Nottingham is one of the region's greatest and most urgent challenges."
The new Nottingham Challenge Board, which is being set up by the city council, will include Ms Soden and school and council leaders.
The city's education authority currently sits in the bottom 10 of the latest national league table for pupils achieving five good GCSEs, with 49.6% hitting that target.
The new board will set out an improvement plan for the recently inspected schools and offer advice on how to improve results.
'Batman and Robin' inspections
Susi Artis, assistant secretary of the National Union of Teachers, said the way the unannounced inspections took place in November was not appropriate.
"It was like some kind of Batman and Robin flying in with a big stick and whacking everyone around the head," she said.
"Teachers in those schools are totally demoralised."
She said poverty and unemployment were the main reasons for the poor performance at the city schools.
"Teachers at these schools work tremendously hard and they do the very best they can."
But city councillor David Mellen said: "Disappointing inspection results are concerning… it is not good enough for the people of Nottingham.
"Our initial conversations with Ofsted acknowledge that secondary schools in Nottingham have improved - but that improvement has not been fast enough."