Bilsthorpe Christmas tree for Jak Taylor is stolen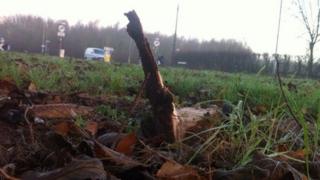 A village Christmas tree planted in memory of an eight-year-old boy has been chopped down and stolen.
The £350 tree was a tribute to Jak Taylor, who drowned while on a family holiday in Spain in 2002.
The "sickening" theft in Bilsthorpe, Nottinghamshire, happened less than a week after the tree had been decorated with Christmas lights.
A replacement tree has been offered after a listener heard about the theft on BBC Radio Nottingham.
Andrea Swallow, chair of Bilsthorpe Parish Council, said the tree had grown to 8ft (2.4m) since being planted in 2010, and had started to look beautiful.
Tears over tree
"Personally I hope it's not somebody in the community that has done it, because it would be really sick if a community member had done this," said Ms Swallow.
She said the theft was a "double blow" for the community because it was "Jak's tree".
"It's sickening that somebody could do this when the tree had begun to look beautiful for him," she said.
"I don't think I could repeat most of what they said but one lady did start crying and she couldn't believe that somebody would do it."
The tree is thought to have been stolen between 19:00 GMT on Friday and 08:00 GMT on Saturday.
Nottinghamshire Police has asked anyone with information to contact them or Crimestoppers.