John White, 83, of Retford killed by falling tree during storm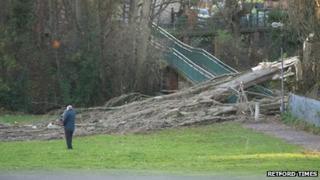 A Nottinghamshire man who died after being struck by a falling tree in a storm has been named by police.
John Arthur White, 83, of Retford, was riding his mobility scooter through King's Park in the town when he was hit by the tree.
Nottinghamshire Police were called to the park at 13.50 GMT on Thursday but emergency crews pronounced Mr White dead at the scene.
The park has been closed until further notice.
The tree, believed to be about 40ft high, fell directly on to a path.