Gun charges dropped against Miss Nottingham finalist Rebecca Draper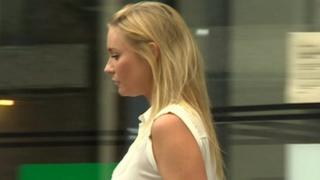 A former Miss Nottingham finalist charged with illegally selling gun parts, has had the case against her dropped.
Rebecca Draper, 27, was accused of selling or transferring four firing pins and an extractor without lawful authority over the past 12 months.
Ms Draper is the managing director of field sports supplier Drapers Airguns in Radford, owned by her father.
The case at Nottingham Crown Court was dropped as a key witness pulled out.
The charges all involved components for the prohibited Glock and Luger handguns which cannot be owned without a licence.
Ms Draper consistently denied any wrongdoing.
Speaking outside the court, she said: "It has been an emotional time for the whole family over the past nine months and the prospect of a five-year prison sentence has been very daunting for me.
"I'm so relieved I can enjoy Christmas with my family and we can all relax."
Ms Draper's father Chris Draper added: "It shouldn't have gone to court at all. There was no intent and we were going about our normal business."