Appeal for £250,000 diamond ring stolen in Nuthall robbery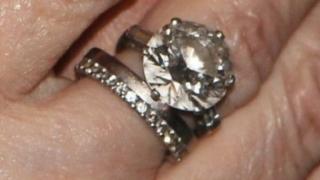 Jewellers are being asked to look out for a diamond worth £250,000 which was set in a ring stolen in a robbery at a Nottinghamshire home.
Police have arrested six men over the robbery in Nuthall but the ring has not been found.
Officers said two men assaulted a couple in the garden of their home in Nottingham Road on 11 July.
A £10,000 reward is being offered for information leading to the conviction of the offenders.
One of the victims said: "This attack terrified the life out of my wife and me.
"Since it happened she has not wanted to be alone in the house or sit in the garden, which she used to enjoy."
The robbers escaped in a blue BMW.
The six men arrested over the robbery have been released on bail.