Refurbished Ollerton day centre 'to close'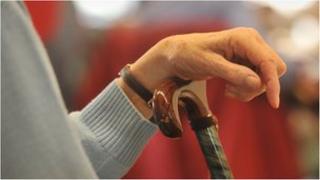 A day centre that had been refurbished at a cost of about £700,000 could be closed as part of Nottinghamshire County Council's budget cut plans.
About £6m was used to update day facilities across the county by the previous Conservative administration.
However, the Labour-led authority said the centre in Ollerton was under-used, and other bases were available in Mansfield and Newark.
Tory MP Mark Spencer said closing the building made no sense.
'Vital part of life'
Councillor Muriel Weisz, the chair of adult social care at the council, said: "The department I chair is facing cuts of £54m over the next three years; a serious reduction in what we're able to allocate.
"We are absolutely committed to protecting as much of the day centre provision as we possibly can."
Ms Weisz added that the number of people attending the day centre, which costs about £400,000 a year to run, had dropped over the past year.
She said about 40% of those who visited the facility lived closer to Mansfield, Newark and Worksop.
However, Mr Spencer, the MP for Sherwood, said: "The Conservative administration spent all that money and we thought that had saved it for the future.
"I'm devastated because that facility is fantastic for those people in the Ollerton area and lots make use of it. It's a vital part of their life, it gets them out of their house and allows them to engage socially."
Ms Weisz said the council would look for other uses for the centre.