Ethsham Ghafoor murder: Family launches Facebook appeal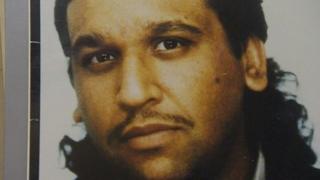 The family of a man who was shot dead in his taxi in 1994 have started a Facebook campaign to appeal for information and help catch his killer.
Ethsham Ghafoor, known as Shami, was aged 26 when was shot twice in Lambley Lane near Nottingham.
The family learned in 2012 that his brain had been retained by police and stored at a hospital.
His sister Rahbbina said she hoped the page would "reach people you would otherwise not reach".
'No boundaries'
Nottinghamshire Police said his killing was a "cold-blooded, pre-meditated murder" but said no-one has so far been "brought to justice over the death".
His mother Walayat Begum, 76, said: "I am now an old and frail woman: My only remaining wish is for those responsible for my son's death to be brought to justice in my lifetime.
"I need to know who and why my son was so evilly ripped from me."
Rahbbina Ghafoor said: "Social media is a big voice - it can reach many people and it does not have boundaries. It can help you reach people you would not otherwise reach.
"We hope someone out there who may have information and may want to come forward will at some point read the page and help us gain some peace."
The Facebook page Justice for Ethsham 'Shami' Ghafoor calls for anyone with information to contact the family or the police.
Det Ch Insp Tony Heydon, who is investigating the murder, said: "Shami was part of a very close-knit family, and his death has left each and every one of them devastated over the years.
"We are working closely with the family and supporting their public appeal which is using social media.
"Now is the time to put Shami's family first and help them find closure. Their Facebook group shows just how desperate for justice they are, and if you know anything, you could help them."
Mr Ghafoor had two children and three brothers and three sisters.
The force said it would continue to hunt for Mr Ghafoor's killer.