Nottingham tram: Extension work on track despite Chilwell delays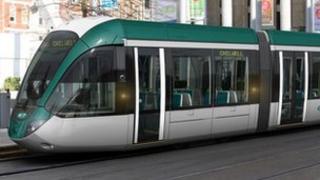 Nottingham's tram extension will finish on time at the end of 2014 despite recent delays, a tram spokesman said.
Some business owners have complained about disruption caused by the project, which will extend the tram system to Chilwell and Clifton.
The current work on Chilwell High Road section has slipped behind schedule, but should be ready "soon after Christmas", the spokesman added.
Chilwell shop owner Julie Cameron said the delay is a "blow for business".
Mrs Cameron, who runs Cameron House gift shop, said the work was affecting her trade: "We would like to see pavements and more customers."
The £570m extension of the city's tram network will see two new lines running from the city centre - one to Chilwell via the Queen's Medical Centre and Beeston, the other to Clifton via Wilford.
Ageing pipes
A spokesman for Taylor Woodrow Alstom, one of the firms working on the project, said: "Although the majority of utility replacement work is now complete, and we are well into the track laying stage ….. but phase 1 construction work (in Chilwell) is behind where we intended.
"Moving and replacing utilities has taken longer because ageing drainage pipes were found to be in a poorer state than expected."
The city and county councils have also lifted a cap on the amount of compensation businesses can claim for the inconvenience - which previously stood at £13,500 a year.
Nottinghamshire County Councillor Steve Calvert said: "We have been aware that the disruption has been greater than we expected."
Mrs Cameron said: "They have removed the limit - but it needed to be done. They didn't realise the consequences to the businesses when they started the works".