BBC presenter Ray Gosling dies, aged 74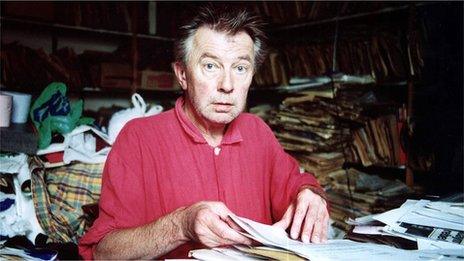 Journalist, broadcaster and gay rights activist Ray Gosling has died in hospital in Nottingham.
Gosling, 74, presented more than 100 television documentaries and many more radio programmes.
Nottingham University NHS Trust said Gosling died at the Queen's Medical Centre on Tuesday.
In 2004, Gosling became a regular presenter on Inside Out East Midlands.
During one of the programmes, broadcast on 15 February 2010, he claimed that he had killed his lover.
"I killed someone once," he said. "He was a young chap, he'd been my lover and he got Aids.
"I picked up the pillow and smothered him until he was dead."
Gosling was interviewed on the BBC Breakfast programme the day after the Inside Out broadcast and was asked about his claims. He again confessed to the killing.
He was arrested on suspicion of murder but charged with wasting police time after the confession was determined to be false.
Tony Roe, a BBC editor and friend of Gosling, discussed a programme about death which led to Gosling making the false claims.
Mr Roe said: "After his arrest he was bailed to my house to avoid the media scrum. When he told the truth I was at first angry inside, and then sad.
"He was sitting in front of me, his career over. For once no straight answer as to why he had done it. But that night did see an explanation of sorts.
"At his friend's funeral he said he was harangued for not ending the suffering sooner. So for the next 30 years he told himself and believed himself that he had.
"He had wanted to do the right thing and to have been seen to do the right thing."
Poet and artist Dave Bishop, also known as Lord Biro, was a close friend of Gosling and was with him at the hospital on Tuesday.
He said people should remember him for his TV and radio work.
"He was different from all other broadcasters," he said.
"He was curious about the world and used to go to places that no-one else bothered with.
"Ray knew how to talk to people and he liked to mix with the working class, and talk to them.
"He didn't like programmes like Shameless and EastEnders because he thought they misrepresented the working class."
Gosling was born in Chester in 1939 and was educated at Northampton Grammar School and the University of Leicester.
He was a youth worker in the St Ann's area of Nottingham and wrote Sum Total, his autobiography, at the age of 23. The book detailed his work in the city.
During the 1960s and 1970s Gosling hosted Granada TV's On Site programme.
He made many TV and radio documentaries about his personal life as well as about sheds, gnomes and windmills.
In one of his last documentaries he discussed old age, bankruptcy and moving into sheltered accommodation.
Mr Roe said: "[He made] Films about people and the places they lived. He wrote like he spoke. Direct. Said what he saw. Said what he thought."