Nottingham Castle lottery bid backed by city council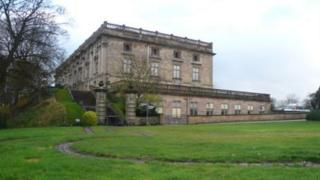 A fresh bid for lottery funding that will form part of Nottingham Castle's redevelopment plans has been backed by the city council.
The authority has shown its support for the latest bid for £14m from the Heritage Lottery Fund.
If granted, plans include a new visitor centre and greater access to the caves.
Chairman of the Nottingham Castle Trust, which been set up to run the castle, said work could transform it into a "world class... attraction".
'Uncovering history'
In May, the council's first application for £15m lottery funding was turned down.
A new, revised bid will now be submitted at the end of the month which the trust says will be "much stronger".
Chairman of the trust, Ted Cantle, said the non-profit organisation had been set up to manage funding needed for the project and would take over operational management of the castle from the council.
He added: "The [trust] has already been set up and our first job is to advise the council on the scheme and then doing some of the fundraising from private sources to help pay for it.
"We are not trying to remove this from the public assets, this building will always be in public ownership, but the aim is to work with the council as an independent trust.
"The plans are about uncovering the medieval history of the castle and showing it off to its advantage.
"The castle will be a very different place."