Maplebeck farm death husband detained indefinitely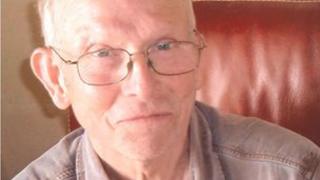 A farmer who admitted strangling his wife has been told he must remain in a secure hospital indefinitely.
Peter Thurgarland, 72, from Maplebeck in Nottinghamshire, was treated in a psychiatric unit until he was deemed fit enough to face court.
In September, he pleaded guilty to the manslaughter of his wife Julia, 70, due to diminished responsibility.
Nottingham Crown Court heard he had a "severe" mental illness and had become "fixated" with flooding.
Smothering attempt
During a hearing in May, prosecutor Michael Auty QC said the couple's home in Maplebeck had been flooded in 2007, forcing them to live in a caravan for 18 months.
Thurgarland had developed a "severe mental disturbance" and had become "fixated" with flooding.
He had been due to attend a psychiatric assessment on 28 December 2012, the day of his wife's death, after attempting to smother her with a pillow two weeks earlier.
Thurgarland was admitted to a secure unit until he was thought fit enough to enter a plea in court.
On Friday, he was told he must continue to receive treatment in a secure hospital for an indefinite period of time.