Elizabeth Kinston search: Police find a woman's body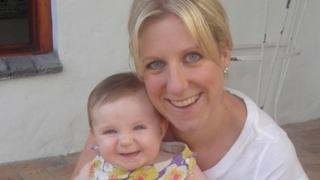 Police searching for a missing doctor believed to have been suffering from post-natal depression have found a woman's body.
Mother-of-two Elizabeth Kinston left her home in Beeston, Nottinghamshire, on 1 November.
The 37-year-old, who worked at the Moir Medical Centre, in Long Eaton, Derbyshire, gave birth to her second daughter in January.
The body has not been formally identified.
It was found at 12:25 GMT on grassland near Enterprise Way, Dunkirk, Nottingham.
Police said Mrs Kinston's family had been informed of the developments.
Mrs Kinston left home in her car, which was later found in a car park in Nottingham city centre, with her purse and phone inside.
She was still on maternity leave from her job as a GP.
Speaking earlier this month, her younger sister Charlotte said: "Lizzie has such a big heart.
"She loves her job as a doctor and I know she gets so much joy from being able to help people feel better. She is also a loving mum, who would do anything for her girls."