Attenborough Nature Reserve bird hide to boost bats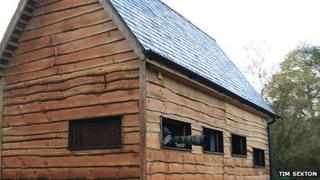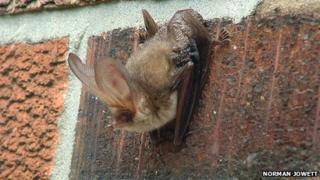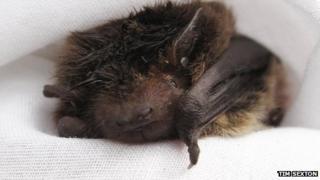 A specially adapted bird hide designed to help bats has been opened at a Nottinghamshire wildlife park.
The structure at Attenborough Nature Reserve has insulated hibernation boxes to help the mammals during winter.
It is hoped the hide will boost the rare Nathusius' pipistrelle species which was found in Nottinghamshire for the first time in September.
Manager Tim Sexton said the hide's "innovative" design will give threatened bat species a helping hand.
Mr Sexton said: "It has been a long held dream to have a new hide at the delta [area of the reserve].
"The innovative design of the hide will not only benefit human visitors to the reserve but will also give our threatened bat species a helping hand.
"I believe this hide is the first of its kind in terms of the amount of bat habitat we have incorporated into its design."
The hide, which is located near to the River Trent, has a large roof void which gives space for bats to breed.
A slate roof has also been fitted to act as a heat transmitter to warm the space up for young bats to develop quickly.
The hide has also been clad in timber which provides space between the wood and the wall for all three types of pipistrelle bats (common, soprano and Nathusius).
Insulated boxes have been installed for bats like the brown long-eared, Daubenton's, whiskered and natterer's to hibernate in.
The Bat Conservation Trust said bat houses have been built before but not one that can accommodate different species at the same time.
Heather McFarlane, from the trust, said: "The future for many species depends on people making spaces for bats in buildings and it is great to see this happening on the reserve."