Scott Gladwin not guilty of shaking baby to death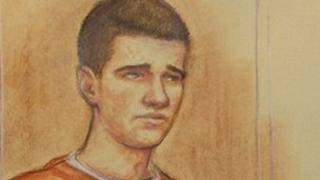 A man has been cleared of killing a four-month-old baby he was accused of shaking to death.
Scott Gladwin, 20, from Huthwaite, Nottinghamshire, was left to look after Scott Cawthorne while the baby's mother went to the shops in February 2010.
She returned to find an ambulance about to take him to hospital. He died three days later from a "catastrophic" head injury, Nottingham Crown Court heard.
The jury found Mr Gladwin not guilty of Scott's manslaughter.
Nottinghamshire Police said the investigation into the four-month-old's death would not be reopened.
Det Ch Insp Karen Pearson said it had been "a long and protracted investigation and we were satisfied that we had sufficient evidence to bring a prosecution".
"We are disappointed that no conviction has been secured," he said.
"Our thoughts are with the family at this time."
In court, Mr Gladwin said he had returned from the toilet to find the baby apparently having a fit.
He was originally accused of murder, but the charge was changed to manslaughter before his trial.