Bingham named top place to bring up a family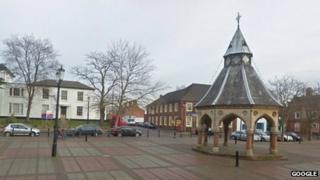 The Nottinghamshire town of Bingham has been named the best town in England and Wales to bring up a family.
It topped a study which looked at quality of schools, childcare provision, affordability of living and crime levels.
The town hit the headlines last year when a Muslim family was subject to racist abuse and eventually moved out.
The town mayor said she believed it was an "isolated case" and Bingham was otherwise friendly.
Murad Alam said his wife and two sons moved out of their home after they were abused "five or six times" at the end of last year and beginning of 2013.
Incidents included a cross wrapped with ham put outside their house and offensive graffiti.
Mayor of Bingham Tracey Kerry said: "Hopefully that's an isolated incident.
"We have spoken with the family...it was just a great shame it happened. It can't be perfect all the time," she said.
She added that if other people were not made to feel welcome or suffered similar abuse, they should speak to the council.
Family Investments, which commissioned the study, said towns in the midlands and north had risen up the list because of more affordable housing compared to southern counties.
Kate Moore, head of savings and investments, said: "Bingham's combination of affordable housing, low crime and excellent local schools make it a winning location for bringing up a family."
"One of the most noticeable trends in this year's report was the increased number of locations in the Midlands and northern England compared to last year," she added.
The study said that 77% of GCSE pupils in Bingham achieved A* to C grades compared with the national average of 43%.