Widow of murdered Omar Watson wants answers 'for sake of children'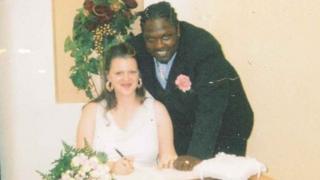 The widow of a Nottingham man shot dead 10 years ago says she wants his murder solved for the sake of his two sons.
Omar Watson, 24, was killed in a shooting at a hair salon on Peveril Street on 7 November 2003.
His wife Chantel, who was seven months pregnant at the time of the murder, said she wanted closure for the sake of her sons.
Nottinghamshire Police said a £10,000 reward was being offered for information leading to a conviction.
No pictures
Mrs Watson, 38, said: "On our youngest son's birthday, he blew out a candle on his cake and said, 'I wish I could just get to see my dad once'.
"There are no pictures of him with his dad, he never met him, and he really feels it.
"The boys keep his spirit alive. They look like him and remind me of him.
"They are always asking me questions about what happened, and I just don't have the answers for them. It is really hard for me."
Mr Watson had been injured in an earlier shooting in August 2003 and police said at the time that there were indications he had been deliberately targeted.
A police spokesman said they were still investigating the murder at Nefretiti's Secrets hair salon in Radford.
They want information on a black wig last seen on the ground outside the salon shortly after the incident. It was displayed on a mannequin in the salon's window and was either taken by the offender or got caught up in his clothes as he fled, police said.
Police are also looking for a young girl, who would have been 16 or 17 at the time, who walked into the hair salon and left shortly before the gunman entered the building.
Ch Supt Ian Waterfield, the original investigating officer in 2003, said: "Someone out there knows who did this, and for the sake of Chantel and her young sons, who have had to grow up without their dad, I would urge anyone with any information at all to call us."