Nottinghamshire County Council: Hundreds of jobs to go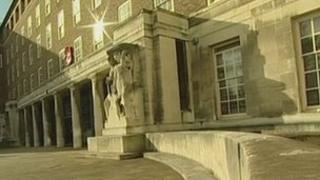 Eight-hundred jobs at Nottinghamshire County Council could be lost over the next three years.
The Labour-led authority said it had been forced into the move by the need to make savings of £154m by 2016 due to government cuts.
Authority leader Alan Rhodes said he was also planning to increase council tax for the first time in four years.
The Conservative opposition said increasing council tax will hit Nottinghamshire's poorest the hardest.
Councillor Rhodes said he had no choice but to cut services and reduce the council's workforce.
He said: "I am angry that we have been forced into a position, not of our making, which gives us no choice but to cut vital services and further reduce our workforce.
"We inherited a £133m deficit from the previous administration in May, made even worse following an extra £21m in cuts announced by the government."
'Spending plans'
Councillor Kay Cutts, leader of the Nottinghamshire County Council Conservative Group, said: "This is a budget the Labour administration tried to keep hidden before the county election.
"They knew they would have to find at least £133 million in savings if they gained control, yet they made extravagant spending plans they could not afford and it is the public who now pay the price.
"Council tax is set to rise, hitting the poorest hardest.
"Potholes on our roads will not be repaired and highway surfaces will degenerate, a false economy which will see insurance claims increase."
About 3,000 council jobs have been lost since 2010 prior to Tuesday's announcement.
Job losses will be made through removing vacant posts, redeployment and voluntary redundancies, the authority said.
The proposals will be discussed at a meeting on 13 November.