Patrick Mercer lobbying claims: Tories select Newark candidate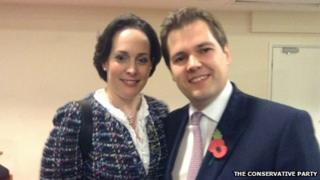 The Conservative parliamentary candidate for Newark has been selected after Patrick Mercer resigned amid lobbying allegations.
Mr Mercer is now an independent MP for Newark but has decided not to stand at the next general election.
At a late meeting on Friday, the local Tory party selected Robert Jenrick to run in 2015.
The father of two is a director at auction house Christie's and also a qualified solicitor.
Mr Jenrick was selected from a shortlist of four candidates - including David Lloyd, Nigel Huddleston and Edward Argar - by a secret ballot following an interview by former Conservative MP and Times columnist Matthew Parris.
"I am honoured to be picked as the Conservative candidate for Newark. It is a historic constituency comprising some of the most scenic and desirable places in Nottinghamshire," Mr Jenrick said.
"I will be starting work straight away getting around Newark, Southwell, Bingham and surrounding villages finding out what people's issues are on the ground."
Mr Jenrick stood in the 2010 general election in Newcastle-under-Lyme where he came second.
The selection process began when Mr Mercer announced he was stepping down at about the same time was accused of breaking lobbying regulations in a BBC Panorama programme.
He said his decision was not related to the allegations which claimed he accepted £4,000 to lobby on behalf of the Fiji government.
Panorama said Mr Mercer had been approached by a fake company set up by the programme, in conjunction with the Daily Telegraph.
The Newark MP said he took the money for consultancy work outside Parliament.
Mr Mercer resigned in May and said he had referred himself to the Parliamentary commissioner for standards.
An inquiry into the allegations is ongoing.