Forest Town garden bodies inquiry leads to two arrests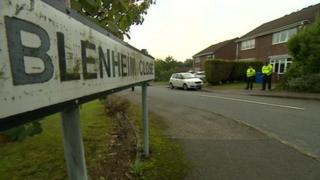 Investigations after the remains of two bodies were found in a Nottinghamshire garden have led to the arrests of a man and a woman on suspicion of murder.
The remains were found by police in the garden of a house on Blenheim Close, in Forest Town, Mansfield on 9 October.
Police believe the remains are that of William and Patricia Wycherley, who lived at the house but disappeared in 1998, according to neighbours.
A man, 57, and a woman, 55, are being questioned by police.
Detectives said the remains, which have not yet been formally identified, appeared to have been in the back garden for some time.
Officers said a man and a woman had been arrested on suspicion of murdering the couple in 1998.
Mrs Wycherley is believed to have been born in Fulham, west London, and would have been 64 years old when she is thought to have gone missing.
Her husband Bill would have been 85 at the time.
Police have said the couple "were known to be quite reclusive".