Tinsley Lindley: Campaign to mark sportsman's grave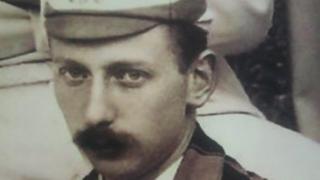 A campaign has started to raise money for a memorial to a top sportsman from Nottingham who played international football for England in the 1880s.
Tinsley Lindley scored 85 goals for Nottingham Forest in one season but is buried in an unmarked grave.
Campaigner Ron Clarke wants to raise £6,000 to erect a gravestone for Mr Lindley, who also played rugby and cricket, but never turned professional.
Mr Lindley worked as a barrister and died in 1940 aged 74.
'Speedy and agile'
Mr Clarke said he has contacted Mr Lindley's family in Wales, but he cannot explain why a gravestone was never installed at the grave in Wilford Hill cemetery near Nottingham.
"I am not sure why he is in an unmarked grave - we cannot get to the bottom of it.
"It is a brick-built grave with grass on the top with no name… and the only marker is a wooden cross that I have put there."
Mr Lindley, who scored 14 goals for England in 13 internationals, became a barrister after studying law at Cambridge and was described as "an ideal centre forward" by writers, he said.
His father Leonard Lindley was mayor of Nottingham in 1882.
He was the youngest player ever at Nottingham Forest and scored three goals on his debut with the club on 17 February 1882 aged 16.
"He was very, very quick and used his speed and agility to score.
"I believe he was one of the best players ever at Forest - he scored three goals in his debut and scored another three goals the next week against the same team - Wolverhampton." Mr Clark said.
Mr Clarke said Mr Lindley refused to wear ordinary football boots and preferred to wear walking shoes because he could run faster in them.
Nottingham Civic Society spokesman Hilary Sylvester said: "It would be a good to idea to mark the grave - and if possible to have a blue plaque elsewhere that is a bit more accessible for people."