Three men stabbed outside Gatecrasher in Nottingham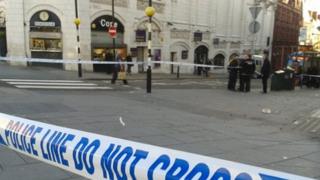 Three men have been stabbed during a fight between up to 20 people outside a Nottingham nightclub.
A car driven away from the scene then struck and injured a pedestrian.
Four men, aged 18, 22 and two aged 23, have been arrested and are being interviewed by detectives.
Police have appealed for witnesses to the fight, which happened just before 02:50 GMT outside Gatecrasher in Queen Street.
The stabbed men were taken to hospital but their injuries are not thought to be life-threatening.
The pedestrian, who sustained minor injuries after being struck in Upper Parliament Street, went to hospital as a precaution.
'Tougher sentences needed'
Gatecrasher said a group of men were asked to leave the nightclub following a "verbal disagreement" over an hour before, but it "remains unclear" if these men were involved in the fight outside.
The club's management said they would meet with police to review CCTV footage.
Simon Raine, managing director of Gatecrasher, said his clubs operated with the highest level of security, with knife arches in operation and staff trained in conflict management.
"This is not a localised problem, knife crime is becoming a huge national issue," he said, adding that "tougher custodial sentences" should be given to offenders.
"Community sentences and conditional discharges do nothing to discourage criminals."