Nottingham-wide alcohol ban zone backed by council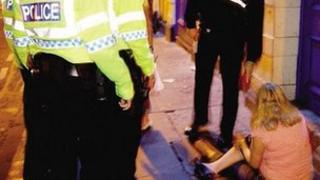 Plans have been approved for a city-wide ban on street drinking across Nottingham.
The city council already operates seven Designated Public Place Orders, where alcohol can be taken from those drinking in an anti-social manner.
Officials said a city-wide order would further curb problem behaviour.
It was unanimously backed by the full council, and after a consultation period is expected to come into force by March next year.
The council emphasised it was not trying to deter people from enjoying a social drink.
Leader Jon Collins said: "This will be employed at the discretion of police and community support officers, and obviously large public events won't be affected or licensed premises.
"Where the orders currently exist, they have been welcomed by residents and have a positive impact on the anti-social behaviour."
Offenders would face on-the-spot fines of £50 or up to £500 if the case goes to court.