St Andrew's Lodge care home to shut after criticism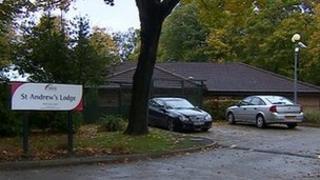 A care home will shut following continued concerns over standards.
St Andrews Lodge in Basford, Nottingham, was the subject of several critical reports and the city council stopped sending new residents in May.
Despite an action plan from owners Methodist Homes Association (MHA), an inspection in August criticised staffing and care quality.
An MHA spokesman said they had "underestimated" a number of "deep-rooted problems" at the home.
Officials said case workers will help more than 30 residents find new homes when St Andrew's closes on 9 November.
MHA took over at St Andrew's Lodge, which had space for 44 residents with severe dementia, from previous operator Southern Cross in October 2011.
Four inspections by the Care Quality Commission (CQC) between April 2012 and August 2013 found areas of concern and said action was needed.
One report said: "We found people's dignity was not always respected and people were not always given choices about their care, and support and consent was not always gained prior to care and treatment being given."
Home 'fantastic'
However, David Reader, whose 103-year-old mother Elizabeth lives at the home, said the closure was unnecessary and dangerous for her.
"I haven't told her yet," he said.
"At her age any move from here could be her last.
"I don't recognise the home from the report, as far as I am concerned it is fantastic, no complaints at all."
Helen Jones, Nottingham City Council's Director for Adult Assessment, said not enough progress had been made to satisfy the authorities that residents were "receiving acceptable standards of care" so the CQC closed the home.
She added: "Such decisions are very rare and only made in exceptional circumstances."
A spokesman for MHA said: "We now understand that we had underestimated a number of deep-rooted problems within the culture and working practices of this home and the time it would take us to make improvements and ensure that they were sustainable.
"We regret that we have been unable to ensure that St Andrew's Lodge can consistently meet the standards we require within the timescale we, the local authority and the CCG had set."