St Edwin: Cuckney 'may be site of king's death'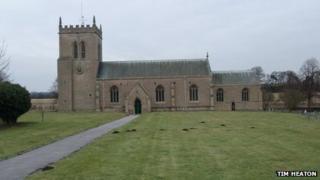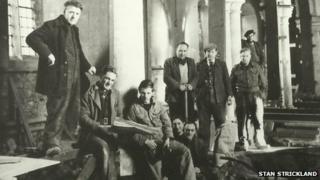 A full excavation of a Nottinghamshire church's grounds could prove where an Anglo-Saxon king was killed in battle, a team of historians have said.
The Battle of Hatfield Investigation Society believes St Edwin died at Cuckney, near Mansfield in AD632 and not in Yorkshire as has been claimed.
Their theory is based on 200 skeletons found beneath St Mary's Church in Cuckney in 1951.
Society chairman Joseph Waterfall said a dig could "re-write English history".
History books have previously stated Edwin, the first Christian king of Northumbria, was killed on a battlefield north east of Doncaster in Yorkshire.
Mr Waterfall said while English Heritage believed the skeletons found in a mass grave at the church were from a medieval massacre, the society believe they belonged to King Edwin's army from the Battle of Hatfield.
"From 1951 to the present day, there has been no excavation at the church," he said.
"It has just been left for 62 years and we just don't know for definite which of the sites was the location of the battle.
"King Edwin was the first Christian king of Northumbria and no-one knows for definite where he was slain.
"We need to know this. Certainly for Nottinghamshire, this will re-write English history. It should be corrected."
He said an application was being submitted to the Parochial Church Council for permission to excavate at the church.
Mr Waterfall is certain a study of the bones can be provide evidence that Cuckney was where King Edwin died and where his son was buried.
The society is to work with Mercian Archaeology on the project and is currently in the process of sourcing up to £60,000 in funding.