'Pretty Windows' murder: 'Amazing' response to appeal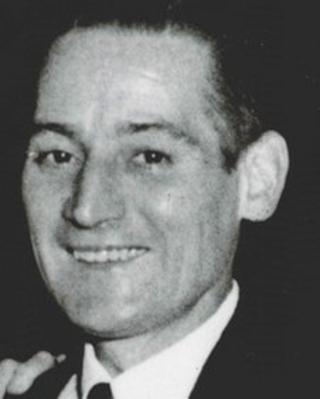 A new appeal into the unsolved murder of a man killed outside a Nottingham pub more than 50 years ago has had an "amazing" response, police have said.
Landlord George Wilson was found dead outside the Fox and Grapes, known as the Pretty Windows pub, in Southwell Road, Sneinton, on 8 September 1963.
Det Ch Insp Tony Heydon said he had had calls from 30 individuals offering information on the case.
It sparked one of the biggest manhunts ever seen by Nottinghamshire Police.
'Running away'
Mr Wilson was found by his wife Betty, who died in 1997, not knowing the reason or motive for his death.
Det Ch Insp Heydon said people who worked in the area had come forward as well as someone who thought they "may have nearly knocked someone over who was running away" from the scene.
"It's an amazing response and I'm really happy but most importantly the family are really happy for all the support they've received," he said.
"I'd like to think that I can solve it but I have to be realistic, it is 50 years on and we're not 100% sure what's left in that archive but we'll see how we go."
The father-of-two was killed as he left the pub, well-known for the intricate design of its windows, to take the family dog for a walk shortly after midnight.
About 20 minutes later, George's wife Betty heard the dog barking in the alley nearby.
The former miner was found lying face down with injuries to his face, neck, head and back. He died at the scene.
Nine days after the murder, two young boys playing in Polser Brook, near Holme Pierrepont, discovered a knife which they handed in to police.
A forensic examination linked the weapon to the murder.
But despite an extensive search for the killer by Nottinghamshire Police the murder remains unsolved.