New cars 'to cut 999 response times'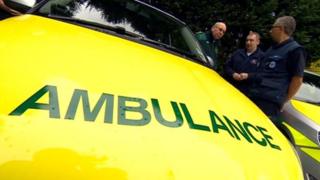 A fleet of cars aimed at helping improve response times to 999 calls has been unveiled in the East Midlands.
The community first response cars will be based in Beeston and Mansfield in Nottinghamshire; Matlock, Derbyshire; and Castle Donington, Leicestershire.
The five cars will allow trained volunteers to help patients before frontline paramedics arrive.
East Midlands Ambulance Service was fined £3.5m in May for missing an NHS response time target in 2012-13.
The service was supposed to get an ambulance to 95% of all life-threatening emergencies within 19 minutes, but EMAS missed this target by more than 3%.
The cars will be equipped with communications, including a two-way radio, telephone, hands-free kit and satellite navigation system, and medical equipment.
EMAS chairman Jon Towler said he wanted the service to provide "an excellent service to the people of the East Midlands".