Nottingham road works: Motorists to experience further delays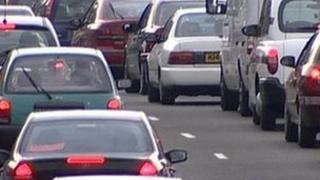 Motorists in Nottingham are being warned of further disruption as work starts on another major trunk road.
Work starts on the A52 at the Bardills roundabout from Sunday to move electricity and communications cables for the city's new tram network.
This work is on top of three other major projects which has seen several roads closed or reduced to one lane.
Nottingham City Council apologised for the disruption but said it would "ensure long term gains" for the city.
'A better Nottingham'
Many of the closures are expected to last until next year.
Officials said the A52 roadworks had been organised to coincide with the school half term holiday to "bring disruption to a minimum".
City councillor Jane Urquhart said: "There's a lot of work going on around the city and I understand the frustration this can cause.
"All the works are part of a £750m investment to build a better Nottingham and deliver a world-class integrated transport system for the city.
"The work we are doing causes disruption while we are doing it but it's always our aim of giving us a better transport system for the future."
Julie Cameron, who represents traders in Chilwell Road, said all the roadworks had been "just really bad planning".
She said: "Everyone is so frustrated with it. The whole of Beeston is a problem at the moment.
"It think it is going to be absolute chaos once the A52 work starts too."