Forest Town bodies: 'Spinal condition key' to identity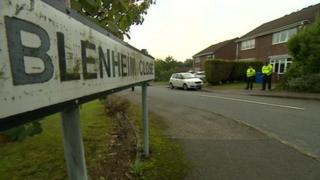 Analysis of two bodies found buried in a garden has shown one probably had a distinctive spinal condition like that of a missing woman.
The discovery in Blenheim Close, Forest Town, Nottinghamshire was made after a tip-off and prompted a murder inquiry.
Patricia Wycherley, who lived there, was understood to have the spinal problem. The other body is believed to belong to her husband, Bill.
The pair, who have not been formally identified, were last seen in 1998.
Detectives have said the remains appear to have been in the garden for some time, and the couple, who would now be 100 and 79 years old respectively.
'Long and complex'
Det Ch Insp Rob Griffin, of Nottinghamshire Police, said: "This latest development does further support our theory that the remains are that of the Wycherleys.
"With help from relatives and old friends we are starting to build a picture of their lives and, more importantly, their movements in 1998, when neighbours say they simply disappeared.
"While we have learned some things about Bill, also known as Geoff, little is known about Pat. We believe her maiden name was Moore.
"The historic nature of the inquiry means it is a long and complex process."
The force said formal identification of the bodies could still take some time to confirm.
Forensic tests revealed one of the bodies was an elderly white man who was older than 60.
He was well-built and between 5ft 7in (1.70m) to 5ft 9in (1.75m) tall.
The second set of remains are most likely to be that of a well-built white woman, who was aged 40 or older and 5ft 5ins (1.65m) to 5ft7in (1.70m) tall.
Post-mortem examinations, conducted last Friday, could not reveal the cause of death or identity of the bodies.