Forest Town buried bodies 'were murder victims'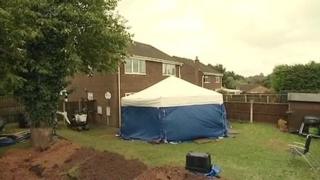 The discovery of two bodies at a Nottinghamshire house is being treated as a double murder by police.
The property in Blenheim Close, Forest Town, was searched on 10 October after a tip-off.
The remains were found buried in the garden and appear to have been there for some time.
Det Ch Insp Rob Griffin said he was confident the bodies found were those of former residents William and Patricia Wycherley.
The couple were last seen by neighbours in 1998 and police said there were no records of them since.
'Extremely shattered'
Mr Griffin said: "A post-mortem was conducted on Friday but not surprisingly given the passage of time it's been very difficult to identify those that have been recovered.
"It's also been difficult to ascertain the cause of death."
Mr Griffin added he wanted to build up a picture of the "reclusive" couple, and appealed for any information about 2 Blenheim Close between 1990 and 2005.
The couple, who would now be 100 and 79 years old respectively, moved into the property in 1987.
Former neighbour Brett Wilson told BBC News he was "extremely shattered and gutted" about the deaths.
"They were neighbours and wouldn't hurt anybody at all. They weren't eccentrics but they kept themselves to themselves… and never went out a lot.
"They didn't have a car…. and they didn't mix at all. You would never see them chatting to neighbours.
"After a while you just used to see them behind the curtain - like a shadow."
One family member told the BBC William Wycherley was one of four children and served in the merchant navy during World War II.
He married Patricia in the early 1950s and lived in London before moving back to Mansfield in 1991.
Police have also made contact with members of the missing couple's family.